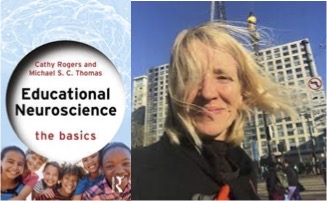 The CEN interviewed Cathy Rogers, one of the authors of the new book "Educational Neuroscience: The Basics".
We asked Cathy:
CEN: Cathy, what made you want to write this book? Why did you think it was needed?
The field of educational neuroscience still has a lot of work to do to effectively communicate what it is all about. This is especially true for communicating with people outside academia – teachers and educators in particular since educational neuroscience is nothing without them. In the longer term, we might also want to ditch the name 'educational neuroscience' as it is stuffy and uninspiring, as well as sounding very academic – that's no good for a field that wants to build a meaningful partnership between educators and researchers.
We had two main goals for the book: one was to squish a load of science and jargon into something hopefully useful for teachers in their classroom practice. The other was to give a rallying cry for everyone involved in education to work together to improve it. With evidence.
CEN: What are three key takeaways from the book, for teachers and parents?
Number one, affective and social neuroscience (that is, dealing with our emotions and dealing with other people) are as important, if not more important, than cognitive neuroscience (dealing with thinking) for education. I think that teachers understand this from their day-to-day dealings with students but those broader aspects of education often don't get the attention they deserve. We hope that positioning social and emotional aspects as fundamental to effective learning at the level of the brain will help the reinforce their case.
Number two, metacognition – thinking about our thinking – has the potential to be a hugely valuable, and currently underused, tool for teachers. This might be particularly true for adolescents who have greater knowledge and experience of their own thinking, along with the high levels of brain plasticity to change it. Helping students see thinking and learning as deliberate, structured, visible processes, with patterns and practices they can learn and develop – is potentially empowering for them and transferable across many types of learning.
Number three, everything about thinking and learning is dynamic and active. Whereas in the past, we have thought about 'boxes' of knowledge and 'files' of memory, now we know better!
CEN: What was the most surprising fact about the brain you found out while researching the book?
I think the most surprising thing is the sheer extent of how much our brains like to make things automatic. I have this mental image now of my brain as a rather over-zealous rule-creator, jumping in, sometimes a bit too soon, like someone clearing away my plate the second I've eaten my last mouthful. There it is, trying to spot patterns and make things predictable, trying to be helpful of course, make it automatic, so I don't have to think. I see a new job for myself in keeping an eye on it! Making sure the rules it's putting in place are ones I want – because we all know just how hard it is to break a habit.
CEN: So Cathy, what's your next project?
I'm working on a few different things at the moment. One is another book project but in a very different vein – it's an illustrated book for children about the future which is sort of utopian-but-science-based. Another is very much educational neuroscience in practice – helping develop clear, evidence-based guidance for how to teach adult literacy to women who missed out on education as children. We'd also, at some point, like to work on a follow up to this book: whereas this book is mostly about the consistencies of how brains work, the next would be all about what makes every brain different.
CEN: Thank you, Cathy, and good luck with book!