The field of educational neuroscience has several key conferences where the latest findings are disseminated and discussed. One of those is the European Association for Research on Learning and Instruction (EARLI). EARLI is an international scientific community which supports research in learning and instruction.
In August 2023, EARLI held their 20th Biennial Conference at Aristotle University of Thessaloniki and the University of Macedonia. In this blog, CEN member Lucy Palmer reports back on the main themes of the conference and some of the exciting debates, including a look to the future of education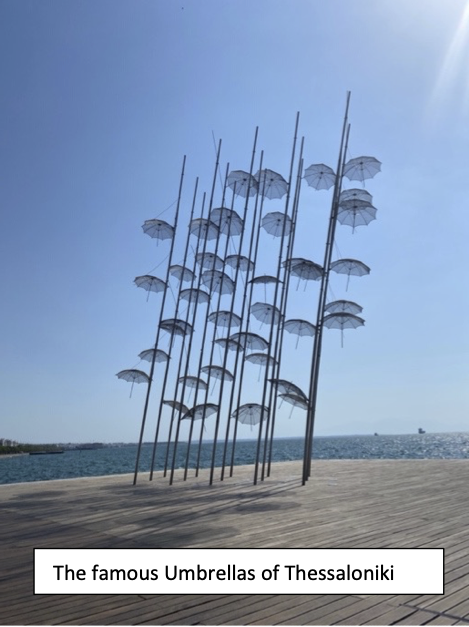 What was EARLI about this year?
This year, the conference theme was "Education as a Hope in Uncertain Times". Over the last couple of years, rapidly changing technological advancements, fluctuating labour markets, population mobility, political instability and the COVID-19 pandemic have resulted in unprecedented uncertainty for our societies. Consequently, it is important that education can adapt to support individuals facing these challenges and drive positive change through evidence based research.
The event was hosted in the vibrant, multicultural and historical metropolis of Thessaloniki, the second biggest city in Greece. Stroll along the seafront and you will see the famous umbrellas, created by Greek sculptor Giorgios Zongolopoulos in 1997 when Thessaloniki was the European Capital of Culture. Much like its host city, the EARLI 2023 conference was captivating and diverse, with over 2500 attendees from 60 countries, including 1054 academic institutions – the largest number of registrants the conference has seen to date.
With over 550 sessions to choose from over the four day conference, EARLI 2023 provided a plethora of thought-provoking symposia, in-depth discussions, informative talks and posters covering a large variety of research areas. Topics included assessment and evaluation, conceptual change, higher education, instructional design, motivation and emotion, special educational needs and learning and teaching in culturally diverse settings. Naturally, we were drawn to the talks relating to Educational Neuroscience!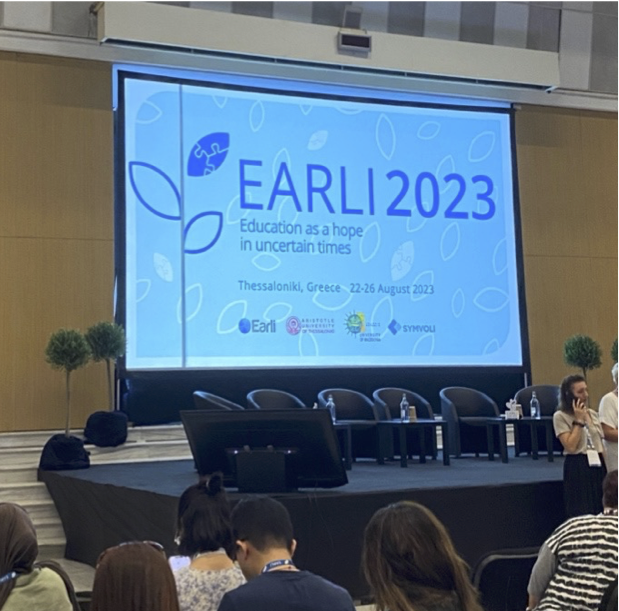 How Learning and Education Shape the Brain
The Neuroscience and Education symposium, "How learning and education shape the brain" explored the bi-directional process of how brain processes influence learning and vice versa. This symposium presented both cross sectional and longitudinal research exploring the mechanisms of brain changes as a result of learning, using a multitude of methods (e.g. electroencephalography, magnetic resonance imaging, genetic analysis) and learning topics (e.g. reading, science, maths, executive function) in both typical and atypical populations, as well as populations from the Global South.
Although we still have a long way to go in ensuring education research is generalisable and fully representative, it is encouraging to see an increase in awareness amongst researchers, educators and policymakers regarding the importance of conducting research in under-represented populations; a topic which arose throughout the conference.
The presentations in the Neuroscience and Education symposium demonstrated the pros and cons of using neuroimaging methods to better understand mechanisms of educational interventions.
For example, Professor Tzipi Horowitz (Technion- Israel Institute of Technology) shared her findings from an 8-week executive-function-based reading programme, which resulted in improved reading fluency and greater executive function skills in 8-12 year old children with dyslexia. Additionally, electroencephalography (EEG) data showed increased synchronization of neural circuits supporting visual and auditory modalities, as a result of the engagement of executive functions from the intervention. These findings support the 'asynchrony' theory between visual and auditory modalities in dyslexia.
On a similar note, Alexander Enge (Max Plank Institute of Human Cognitive and Brain Sciences) showed how brain responses to written words and spoken words change over time in individual children in rural parts of Northern India, in response to a literacy intervention. Although the work presented was preliminary, this lab showed how bi-monthly fMRI scans can be carried out in hard to reach populations, with the goal of understanding the mechanisms of the literacy intervention.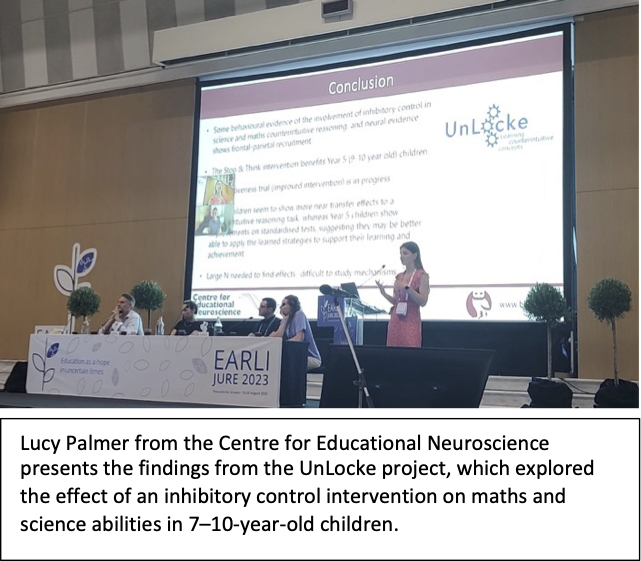 We presented our promising findings from the Stop & Think intervention developed in the Centre for Educational Neuroscience (www.unlocke.org), as well as some of our follow-up working seeking to tease apart the mechanisms underpinning the successful intervention. At times, this has proven challenging because the tools are not best suited to our target population of 7-10 year olds. Here, we come up against the difficulties of using magnetic resonance imaging (MRI) to explore mechanisms of inhibitory control in these children – and how these skills can be trained – including the limitations of small sample sizes, drop out and methodological constraints such as scanner resolution and movement sensitivity.
Professor Gregoire Borst (Paris Cité University) presented a solution to some of these problems in the form of  multi-modal methods. This involves combining several different techniques, such as genetic, neuroimaging and behavioural methods, to understanding the mechanisms of inhibitory control training in 10-year-old children. Prof. Borst's lab found that differences between children in how receptive they were to the inhibitory control training were linked to a combination of genetic, cognitive and anatomical factors.
Overall, this symposium presented a variety of studies on how the brain is influenced by educational interventions, while also demonstrating some of the challenges and solutions within this area of research.
There were also many interesting keynotes throughout the conference. For example, the renowned academic Professor Daniel Ansari (University of Western Ontario) presented his lab's exceptional work on the developmental trajectory of mathematical skills using both behavioural and neuroimaging methods. Daniel recently presented some of his work in the CEN seminar series: see his talk on the CEN YouTube channel here.
If you are interested in learning more about the research presented at the conference, check out the EARLI website for abstracts and further information  (www.earli.org/events/earli2023).
The future of education panel discussion
As you've been reading this blog, I know the excitement has been building, and here it is at last: what did the EARLI conference have to say about the future of education?
Experts in research, policy and education reflected on the challenges for education in the digital era, how to promote education for human flourishing, and how to communicate evidence-based research. Four thought provoking themes leapt to the fore. Here they are (if you agree – or disagree – contribute your thoughts and ideas in the comments section below!)
Which skills will be needed in the next 30 years and therefore need to be taught in educational settings? For example, will the skill of handwriting persist? With today's technology, we can dictate to text, send a message electronically and have it read back to us by our devices. Which other skills will remain and which will become obsolete and how should we design the curriculum to adapt to these changes? Or will nostalgia for how education has always been hold us back from change?
Are we currently teaching science in the right way? For instance, in formal education, we predominantly teach science as a series of facts. However, science is less about fact learning and more to do with creating hypotheses, asking questions, testing theories and critically analysing evidence. With the recent rise in fake news and unreliable knowledge exacerbated by social media, should we adapt our curriculum to improve the way we teach science and analyse information?
Despite the overwhelming majority of education research being conducted in wealthy, western and well-educated populations, there is a small increase in research being conducted in under-represented populations, but how can we improve the inclusivity of our research and support education for individuals in contexts of severe poverty and without basic needs? In the panel discussion, the issue of rapidly changing political priorities was raised. For example, many programmes that are run to support children from disadvantaged backgrounds often rely on funding from government, but the funding can change depending on the political focus at the time. So how can we use research to create better outcomes for these children? There is no easy or quick solution to this problem, but by bringing people together to discuss these issues, we can raise awareness and influence funding and policymakers' decisions to support these individuals.
The final theme related to teacher education. When considering the future of education, we often think of how the curriculum can be adapted to support learners, but another major change involves how to best train teachers. What responsibility should universities take to prepare teachers for the future of education? What should be included in the teacher training and CPD curriculum?
In sum, the conference was an exciting hub of new research, discussions and debates about the past, present and future of education research. To find out more, check out the programme, or to sign up as a member click here!