The Covid-19 pandemic drastically changed our living, working, and learning habits. It was sometimes hard not to feel overwhelmed by the constant flow of information we received on the virus. Below are some resources we selected from partners and experts, which we hoped would support parents, children, and teachers through the crisis.
Mental Heath
The basics of Brain Health include a balanced diet, good sleep and physical exercise. The Sleep Foundation provides tips to keep a good sleep hygiene, and the NHS offers video tutorials to exercise at home. These apply to both children and adults.
Tips to maintain a good work-life balance can help facing the challenge of engaging with work, home based schooling, and personal time in the same space – by Anna Cox, Professor of Human-Computer Interactions at UCL. You can also read our own blog 'Working online: How to prevent information overload'.
Mindfulness has been shown to help cope with stress, anxiety and depression, even if large-scale applications in learning settings still need to be tested. Mindfulness involves paying a non-judgmental attention to our present experience. It helps to bring our awareness to our senses, body, and thoughts, thereby giving less power to negative rumination. You can try free meditations on the Insight Timer app.
Along these lines, there are at least Six positive ways of turning anxiety into positive mental health habits – by Dr. Dusana Dorjee, lecturer in Psychology at the University of York
Writing about our personal experience of the Covid-19 crisis can help us to 1) be be better aware of the present moment and of our feelings, 2) introduce a reflective distance and adopt new perspectives – by Dr Diana Raab.
MeeTwo is a fully moderated and NHS-approved app that promotes teenagers' wellbeing and mutual support.
Our engagement with the news greatly influences our level of stress: dedicate specific time slots for this, and stick to reliable sources.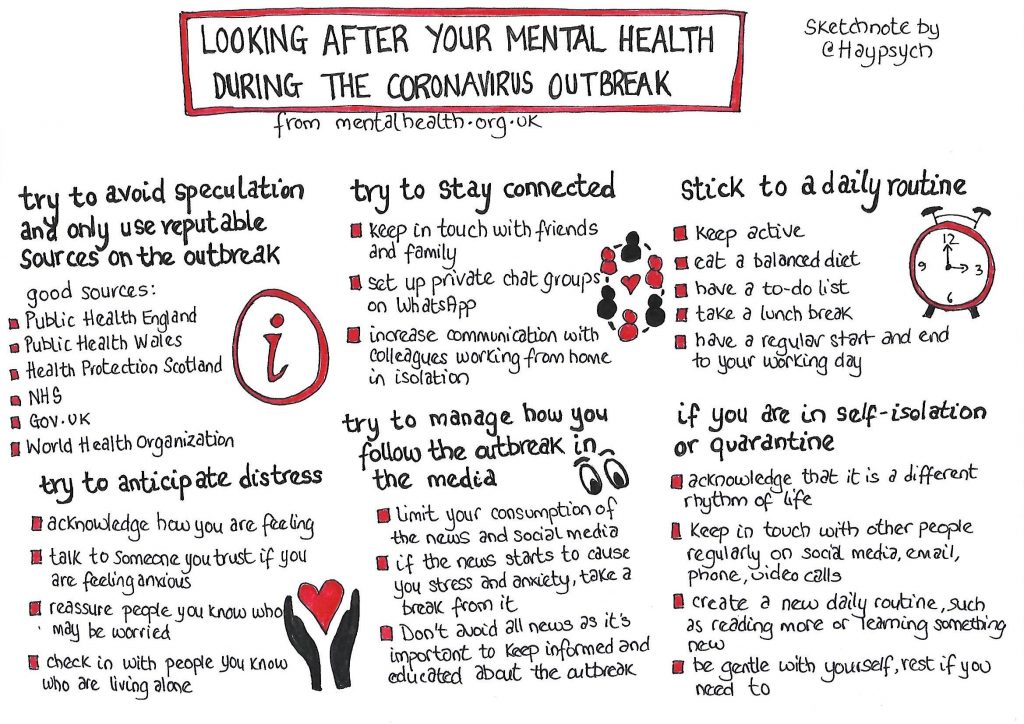 News coverage
Learning resources
---
We hope you have found this useful. If you would like to suggest another resource, please contact us on centre4educationalneuroscience@gmail.com or @UoL_CEN
---
Please consider contributing to research on the long-term psychological and social effects of Covid-19 – www.covid19study.org. The study is run by UCL and is open to all people over age 18 in the UK. More information about the survey is available here.