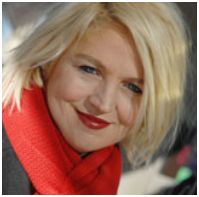 Suzi Godson has been The Times sex and relationships columnist for 16 years. During her psychology PhD at Birkbeck University, she began developing an app that would allow teenagers to get sensible, anonymous support and advice about issues that were difficult to talk about. In 2017 Suzi and her co-founder Kerstyn Comley launched MeeTwo, an app that combines peer support and preventative mental help tools within a safe social media experience. In this blog, Suzi explains the rationale behind the app, and tells us the story of its development.
One in four fourteen year old girls in the UK suffers from depression, a mental illness that diminishes their quality of life and limits their prospects for the future. One in five UK teenagers self harms and this single act means that they are 17 times more likely to die by suicide. Despite a 40% increase in the workforce, the number of young people referred to the Child and Adolescent Mental Health Services has risen by 98% since 2013. The threshold for a referral to Child and Adolescent Mental Health Services is now so high that it is widely known that a teenager has to have made an attempt to take their own life before they can get seen. Mental health provision in the UK is so stretched that 76% of teenagers with mental health issues never get any help at all. It is no coincidence then, that the leading cause of death for young people in one of the richest countries in the world is suicide.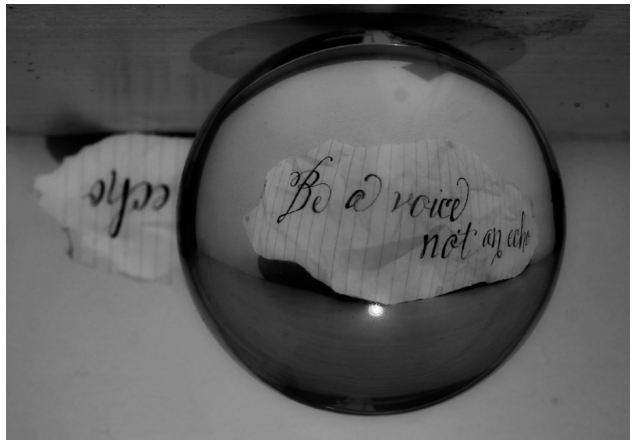 The 1-2-1 counselling model is unsustainable and young people in the UK deserve better. Much better. In 2016, I began thinking about ways to provide safe support, at scale. I thought about what it might feel like to be fourteen and depressed, what the barriers to support might be, and what might make it easier to overcome them. Then, because I am not an expert on being fourteen, I asked lots and lots of teenagers what they thought. I learned that what young people wanted was some sort of early intervention that would enable them to address their problems before they reached crisis point. 
I'm not a tech expert either, so I teamed up with Kerstyn Comley, an education technologist with twenty years experience in development, product and business management.  A medical engineer by training, with a PhD from the University of Cambridge in bioengineering, she had just finished setting up a free school – as you do – and was looking for a new project to get her teeth into. Both Kersyn and I are polymaths and our broad skillset has proved to be an invaluable asset to our tech start up. I had started my career as a graphic designer before switching to journalism. By 2016, my day job was, and still is, writing a weekly sex and relationships column for The Times newspaper and having completed my psychology masters at Birbeck, I was also embarking on my PhD. 
Kerstyn and I designed and built a very rudimentary webapp which we piloted in three UK secondary schools. We learnt a huge amount but we needed serious money to build our minimum viable product (MVP)  In my first term, a fortuitous email from Birkbeck alerted me to a call for entries from the Business Enterprise Department at Birkbeck. They were looking for entrepreneurs within the university and we were picked to represent Birkbeck in the Santander Universities Awards. Getting to the finals and winning an award gave us the confidence to raise the money we needed to build the MVP. We invested £20,000 of our own money and got a small grant of £5,000 grant from the School of Social Entrepreneurs, but it wasn't enough. We knocked on door after door, but for some reason no one was too excited about investing in a tech start up with an entirely altruistic mission. We were two women, developing a product that we planned to give away for free, because we wanted it to be accessible to the poorest and most vulnerable kids in society. That meant there was the small problem of a missing 'revenue model'.  After 18 months we were on the verge of giving up when an anonymous philanthropist gave us the financial parachute we needed to finish the build.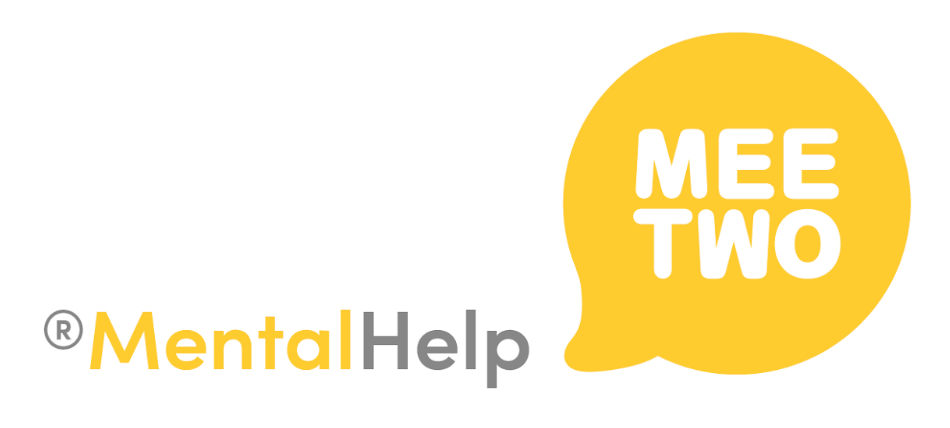 MeeTwo launched in September 2017 and we haven't looked back. The app now supports 25,000+ people from across the UK. Most significantly, 42% of users are male, compared to 17% for the UK's biggest national children's helpline. It costs us roughly £25 to support a young person for an entire year. Our funding has come from a mix of grants, prize money, philanthropy and one 'friends and family' investment round. We are also launching MeeTwo Connect, a new 'paid for' service which provides schools and universities with a portal within the MeeTwo directory. The portal allows students to connect to campus services and make appointments with school or university counsellors from within the app.
Like most really difficult problems, the solution we finally arrived at seems blindingly simple now. MeeTwo is an app that combines peer support and preventative mental help tools within a safe social media experience. It teaches young people how to help themselves, by helping each other. It allows them to turn their own difficult life experiences into useful support and advice for others. And because every new user is a new counsellor, it provides a uniquely scalable solution to the current mental health crisis.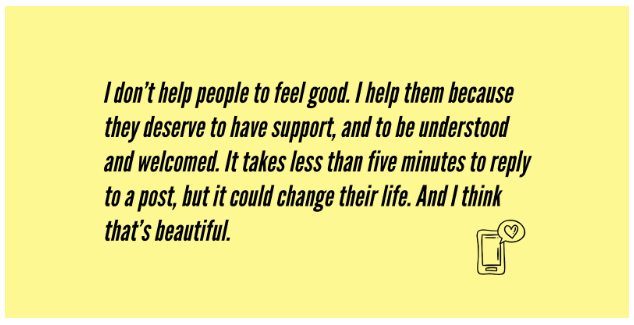 MeeTwo is safe because it is 100% pre-moderated by humans who check every post and reply before they go live. Moderation begins at 7.30am and continues through to 11pm at 30 minute intervals. Moderators are paid, and they work remotely, so it's a great job for people who have barriers to employment, or disabilities.
MeeTwo is anonymous so that young people can be completely honest about what is bothering them. Within the app, they shake their phone to generate a random three word name which is unique to MeeTwo. No personal information or identification is allowed, but users can @username to notify each other. 
The app is designed to look and feel like social media but it is completely gender neutral. All visual hierarchies are stripped out and profile images are a simple coloured circle, which users can change. By creating an app that looks 'cool' and actively avoids all 'self-help' stereotypes, we have created an app that boys will engage with. At last count, 42% of our users were boys, which is an extraordinary measure of success.
MeeTwo is inclusive. Within the app trained 'super peers' ensure that every question gets a reply and no one is left out. Super peers are our secret weapon because the last thing we wanted was for a young person to pluck up the courage to post and then find that they were ignored. Super peers are largely psychology undergraduates and it's a great role because it counts as work experience, so they get course credits from their university. Our wellbeing measure shows that being a super peer boosts self esteem by 30 percentage points.
Behind the scenes a team of experts pick up young people who are in crisis and help them to access real world support.  Our experts come from a range of disciplines but are all mental health professionals.
Educational resources are developed in response to pertinent issues that are being discussed in the feed. Articles by authors and academics, as well as personal stories from users are also published within the app. We are currently running articles from The Lancet and Time Magazine as well as an interview with the UK's top psychiatrist, Sir Simon Wessley.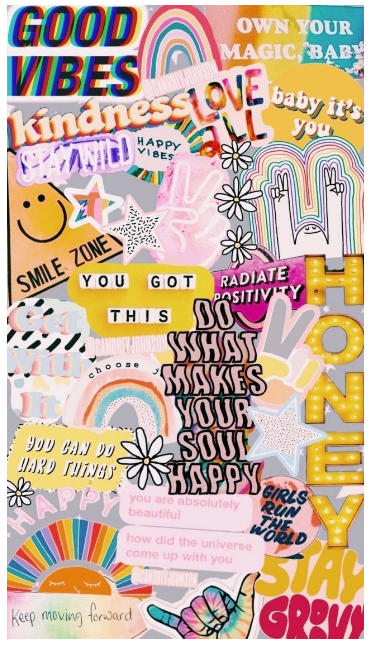 Creative expression is an integral part of MeeTwo and our users can have their artwork published within the app. In 2020, the billboard advertising company Clear Channel will run a digital exhibition of MeeTwo artwork in UK shopping malls throughout the UK.  
In 2018 we briefly diversified into print. After a year or more of helping users to access support services we had identified a number of great helplines, apps, books, YouTube videos and Ted Talks that we thought our users would benefit from. We knew that schools often struggled to find ways to help students who were having a difficult time, so we decided to collate them all into a book. We added personal stories from our users, and interviews with the top adolescent mental health experts in the UK. We crowdfunded the printing and distributed 2,500 free copies to UK schools. In 2019, The MeeTwo Teenage Mental Help Handbook won the British Medical Association Health and Social Care Book of the Year Award. We are now in the process of building  the directory from The MeeTwo Teenage Mental Help Handbook into the app. This will allow users to search the directory by topic and populate their feed with resources which help with a specific issue.
Our user base has grown steadily, but we have had to scale carefully. In the early days we didn't have the funds to hire enough moderators and experts to manage more than a couple of thousand users. In 2018 MeeTwo was approved by the NHS and it is now part of the NHS apps library. The NHS asked us to drop the age range from 13 to 11 so that we covered the entire secondary school period. At the same time, we were noticing a lot of university students using the app. We realised that the extended spread of ages could be problematic, so we introduced banding. Now, individual users are exposed to posts within a specific age range, so a 13 year old will see posts from people aged between 11 and 15 and a 16 year old will see posts from people aged 14 to 18. This has proved to be a very successful solution.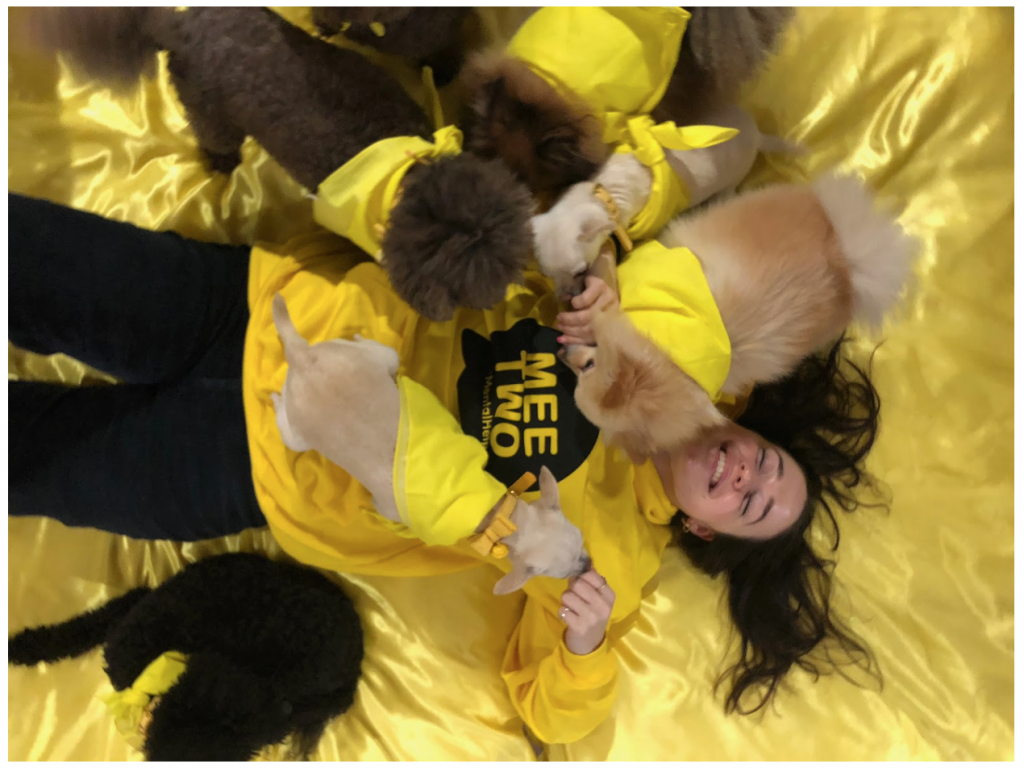 In terms of funding, our biggest challenge has been how to measure the benefit of prevention. It's hard to measure an outcome that hasn't yet happened, but case studies of our data show that MeeTwo users feel more supported and seek professional help sooner. In the short term, this improves their quality of life, but in the long term, it optimises their life chances. Research is very important to us and our data is providing unique insights into youth mental health. We are currently collaborating on research projects with the Anna Freud Centre at University College London, the Department of Data Informatics at Sussex University and the Centre for Population Health Sciences at Bristol University.
MeeTwo has won a number of important awards and has been endorsed by the NHS Apps Library, Digital Health.London (NHS), Teach First and The Child and Adolescent Mental Health Services. In 2017, 2018 and 2019, MeeTwo was recognised as one of the 100 most inspiring education innovations in the world by HundrED. The MeeTwo app will represent British social enterprise at the next world fair EXPO2020.  
2019 British Medical Association Book Award for The MeeTwo Mental Help Teenage Handbook 

2019 Connected Society and People's Choice in the Tech4Good Awards

2019 UK Medilink Awards, Innovation 

2019 Innovation Award, Mayor of London Medtech Business Awards

2019 Social Impact Award, London Business Awards

2017/18/19 HundrED – 100 most inspiring innovations in education in the world

2018 EXPO Live – 100 best social enterprises in the world showcasing at the next world fair

2018 Digital health London Cohort

2018 Technology Playmaker Awards

2018 Techpreneurs Awards

2017 Teach First Innovation Award

2016 Santander Universities Award representing Birkbeck, University of London
Learn more about MeeTwo on the project's website and on Twitter @meetwohelps