EARLI SIG 15's August conference (10-12th) on "Intellectual difficulties and inclusion: Challenges (and solutions) for the future" has now moved online. You can find the exciting programme below.
Special Interest Group (SIG) 15 is an international scientific research interest group within EARLI (European Association for Research on Learning and Instruction). SIG 15 brings together early career and established researchers and other stakeholders (e.g., practitioners, associations, charities), from across the globe, with an interest in the education and inclusion of individuals with special educational needs (SEN) of all ages.
The main conference runs on Monday 10th and Tuesday 11th of August 2020. Confirmed keynotes include: Professor Maria Chiara Passolunghi and Professor Brahm Norwich.
On Wednesday 12th of August, the conference hosts a workshop and discussion on "Research and SEN: challenges and solutions for the future"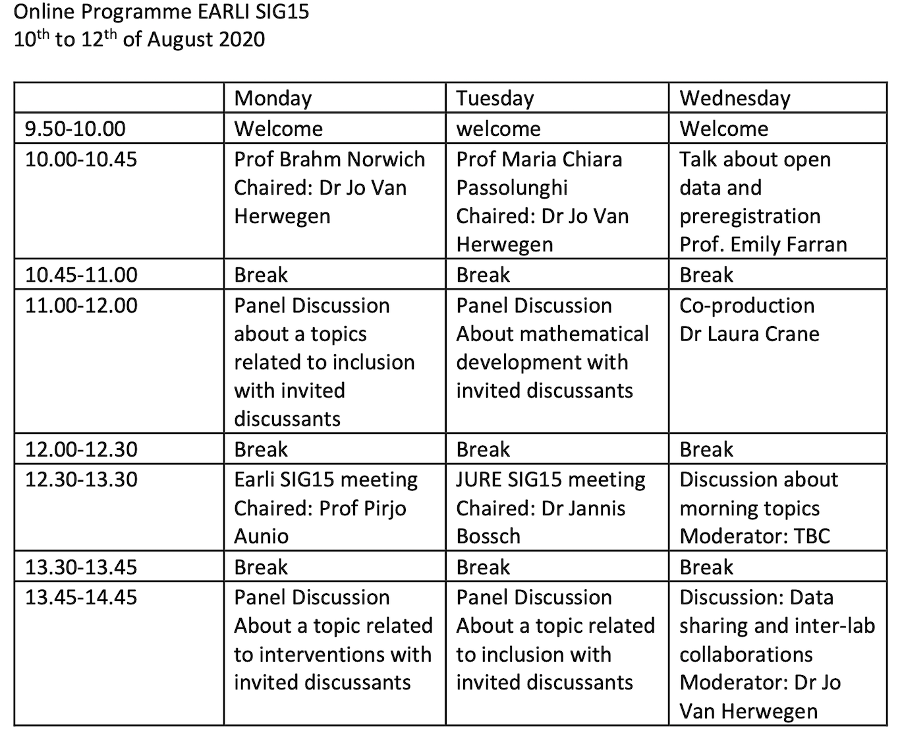 Registration is still open! To register please click here:
https://onlinestore.ucl.ac.uk/conferences-and-events/ucl-institute-of-education-b14/ioe-dept-of-psychology-human-developement-j79/j79-earli-sig15-conference