The CEN was among six projects in educational neuroscience funded by a joint initiative between the Education Endowment Fund and Wellcome Trust to develop and test educational interventions based on latest neuroscience findings.
The CEN's project is called UnLocke and targets the learning of counterintuitive concepts in maths and science in primary age children. It aims to test the benefit of training pupils to suspend their pre-existing beliefs when it comes to solving mathematical or scientific questions, for example correcting the seemingly logical notion that a heavy object will fall faster than a light one, or the impulse that the cells that make up an elephant should be bigger than those that make up a mouse.
The project team is led by Prof. Denis Mareschal (Birkbeck) and includes Prof. Michael Thomas, Dr. Iroise Dumontheil (both Birkbeck), Prof. Andy Tolmie, Dr. Kaska Porayska-Pomsta, Dr. Emily Farran, Dr. Sveta Meyer (all from Institute of Education) and Prof. Derek Bell (Director of Learnus).
For further information, see Birkbeck, Wellcome Trust, Education Endowment Fund.
Listen to Denis talk on this morning's Radio 4 Today Programme (scroll through to 2:47:00!)
Primary schools are being recruited to take part in the research. For more information contact unlocke@psychology.bbk.ac.uk.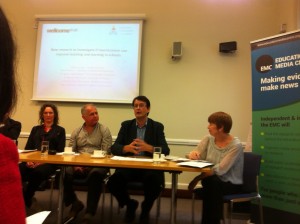 Here at the CEN, we are excited to get cracking on this innovative project!