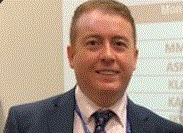 At CEN we are always trying to improve dialogue between academic researchers and teaching professionals and are always pleased to hear from practitioners who are working to bridge that gap. Today, we are delighted to welcome Mark Miller, Head of Bradford Research school.
What does educational neuroscience mean to you?
It's important that we can further our understanding of the complexity of learning. The interdisciplinary nature of educational neuroscience helps to draw together education, psychology and neuroscience to make more sense of how we can support teachers and pupils. For me, it is the 'educational' part that matters most, and it is always our goal to try and make what we know practical and effective in schools and classrooms. But I think that neuroscience needs a 'bridge' into education, and I can see cognitive psychology as that bridge.
How do you keep up to date with the latest research?
As Head of Bradford Research School, I am lucky to be able to engage with the Research Schools Network, and learn from colleagues across the network, the EEF and the IEE in York. While it helps to be knowledgeable about a range of topics, it's hard to be expert in them all, so I constantly rely on the kindness of others to share their knowledge and wisdom.
I have found The EEF's guidance reports to be accessible and useful. For example, as a secondary English teacher I have learnt much about literacy from the Improving Literacy in Key Stage 2 guidance report. Furthermore, the extensive references offer a reading list for anyone keen to find out more about the evidence base. I am looking forward to some of the forthcoming reports, including Improving Literacy in Secondary Schools, Behaviour and Digital Technology.
I read a great deal. My desk will often have the latest copy of TES, whose revamped research coverage is excellent, the Chartered College's Impact journal and at least a couple of books: today it is How to Explain Absolutely Anything to Absolutely Anyone by Andy Tharby and The Teacher Gap by Rebecca Allen and Sam Sims. I am indebted to those who signpost, filter and curate on social media.
Can you give some examples of how neuroscience understanding has helped you and your school? Is there a specific research-informed idea that has had a positive impact in your school, one which others could potentially try?

Across Dixons Multi-Academy Trust, and in my school Dixons Kings Academy, we ensure that our work is evidence-informed. We have explored the best available evidence on cognitive science and tried to use it to help inform our school-wide understanding of how we enable a change in long-term memory.
Knowledge organisers have been a useful tool to explore some of the key ideas and we have focused on three principals, supported by evidence, that can facilitate their use. Principal one is to facilitate retrieval practice, informed by the work of Roediger (2011) among others. Principals two and three are designed not just to ensure that material is learnt, but that it is 'usable'. Principal 2 is elaboration, where material to be learnt is elaborated upon, by relating it to additional knowledge associated with it, often in the form of 'why' questions. The Learning Scientists have written extensively on this, and Weinstein (2018) is particularly helpful in explaining this (and other principles of cognitive science).  Principal three is to organise the knowledge – ironically Knowledge organisers don't always help the mental organisation of knowledge! Reif (2008) offers a clear explanation of why.
You can read more about the evidence here.
How do you get teachers and students involved?
There is always a tension with how much teachers need to know about the cognitive science. At Dixons Kings, we don't want gimmicks and practical tools that are easily replicated with little understanding of the evidence behind them, but nor do we need to overburden with multiple readings of all the original studies. We have explained the principals and practical implications in CPD sessions and assemblies. The staff CPD is followed up with subject-specific CPD, and the message is communicated regularly.
It's also the same with students. There is real power in students understanding how the advice we give them about studying is determined but there are many demands on students' time that we may well need to keep it simple. With students, initial assemblies exploring how to use effective revision strategies for knowledge organisers have been followed up with exploration of how to explore things in individual subjects e.g. elaboration in Physics is different from elaboration in English Literature.
Looking more widely, as a Research School, we share evidence through free events, training courses, blogs and newsletters. Again, there is a balance between keeping things concise and watering down the evidence. Where our blogs and our twilight events keep things concise, our training courses allow for implementation of strategies and deep and thorough knowledge.
Are there areas where you think research should focus next (ie what are the important gaps in our understanding)?
40% of our pupils at Dixons Kings Academy are eligible for the pupil premium. According to Becky Allen, "SES-related disparities have already been consistently observed for working memory, inhibitory control, cognitive flexibility and attention." I would like to see more research into these aspects and particularly how we can mitigate for factors affected by disadvantage.
To read more about some of the research mentioned, see the references below. And you can stay up to date with Mark by following him on Twitter
Roediger H, Putnam A and Smith M (2011) Ten benefits of testing and their applications to educational practice. Psychology of Learning and Motivation 55: 1–36
Reif F (2008) Applying Cognitive Science to Education: Thinking and Learning in Scientific and Other Complex Domains. Massachusetts Institute of Technology: Bradford Books
Weinstein Y, Madan C and Sumeracki M (2018) Teaching the science of learning. Cognitive Research: Principles and Implications Open Access