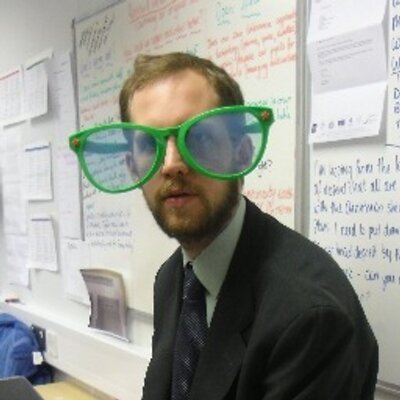 Harry Fletcher-Wood is Associate Dean at
Ambition School Leadership / Institute for Teaching
. He writes a regular blog
Improving Teaching
and authored the book
'Responsive Teaching. Cognitive science and formative assessment in practice'
We are delighted to welcome him to the CEN to answer some questions for our blog.
What is the importance of formal evidence, beyond what teachers know works in their classroom?
As a new teacher, I improved a lot through trial and error, and trying what colleagues were doing.  This was powerful: you get rapid feedback from students if you're boring them or they don't understand what you're talking about, so I was able to refine some aspects of what I did.  But there are some things which we are unlikely ever to discover through trial and error: for example, the phenomenon of desirable difficulties: making tasks harder for students (and so seeing worse immediate performance) can increase what they retain in the long-term.  That's pretty counter-intuitive: without evidence, I'd have been reluctant to believe this or act upon it.  More broadly, learning from trial and error is slow: students come to school because they wouldn't learn everything we'd hope in eighteen years of trial and error; I think evidence helps students in similar ways – teachers will keep getting better, but acting on evidence can accelerate their improvement.
What enables teachers to take a more evidence-based approach?
I think it's getting used to questioning what you're being told, and finding good sources of evidence. The intermediaries are key here: as a history teacher, I didn't have the training or experience to critically analyse papers in experimental psychology; nor did I have the time.  We need to make this easier for teachers by providing clear, actionable summaries which remain faithful to the underpinning research.
Can you give any specific examples from your experience of how an evidence-based approach has changed practice for the better?
A few years ago I was designing a new history curriculum for Key Stage 3 students.  I'd begun to read around how much students forget, and why.  So instead of designing a curriculum which rattled straight through the topics, I designed it so that we kept revisiting key ideas, key periods and key disciplinary approaches.  Students began Year 7 with a chronological world tour, giving them a rough sense of how Ancient Roman life differed from the Middle Ages, for example.  The next year, we did another chronological course, focused on British political history.  The next year, something similar based around war.  The evidence convinced me that, rather than relying on teaching it really well first time, I needed to design my curriculum to revisit the key ideas from different perspectives.
More recently, as part of the programme I lead for teacher educators, we've written a curriculum for teacher educators, designed to offer both a structure and material they can use to help teachers understand how students learn, and adapt their teaching accordingly.  We've rooted it in cognitive science.  I've seen teacher educators design their entire professional development programme around this, helping teachers understand the evidence and teach accordingly.
I am a teacher who wants to know more about the research evidence; where should I start?
I got into the evidence via Twitter and blogs.  I've shared some of my favourite people to follow and blogs here and a list of some of the most useful and interesting papers I've read here.  I'd also recommend attending a ResearchED conference: they bring together teachers interested in research and researchers interested in sharing what they've learned with teachers: so you end up with a good combination of accessibility, usefulness and rigour.
Are there specific areas of teaching or learning where we need better evidence? Where are the research gaps? 
I'm fascinated by how we take good ideas and make them work in the messy reality of individual classrooms.  I'd love to see more research which offers teachers the underlying ideas in a promising area of research, supports them to develop their own ways to act on them in the classroom, and rigorously measures the results.  The biggest gap isn't exciting research or determined teachers, but bringing those two together in ways which respect both the evidence of the researcher and the wisdom of the teacher.
For more from Harry, as well as the links already mentioned, you can follow him on
Twitter