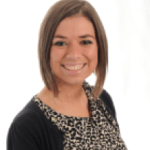 Welcome to our blog series where we chat to teachers about their experiences of accessing and using research. We are delighted to introduce Charlotte Hindley who is an assistant head and teacher from Platt Bridge Community School, and delivers professional development programmes both in the UK and internationally. Charlotte also works as part of her local Teaching School Alliance, Westbridge, in a role co-leading Research and Development. Here, she talks about her experiences of using research in the primary setting.
Thank you Charlotte for taking the time to answer our questions. Firstly, how do you keep up-to-date with the latest education research? Is it important to you whether the research uses particular methods (e.g. neuroscience, classroom-based)?
I keep up to date with developments on the EEF website (https://educationendowmentfoundation.org.uk), and the Impact magazine from Chartered College of Teaching and Learning (https://chartered.college/journal). Regarding the type of research – neuroscience is a relatively new concept for me, so previously I would have been more interested if the research was classroom-based as I felt this held more accountability for pupils' progress rather than those that were commercially-led e.g. testing a specific company's product. Also personally taking part in National Teacher-led research into 'Closing the Gap' and more recently Neuroscience-informed teaching (using randomised control trials, or RCTs) enables me to use my own research.
Could you tell us how research has influenced your teaching?
RCTs that we have led on have informed our teaching – we now use weekly spelling tests, as our own controlled trial showed this had a positive impact on pupils' recall of their spellings. We also explored the use of multiple choice testing as a learning event which showed us that this is useful in conjunction with another method. We also use 'Look, Cover, Write, Check', based on RCTs led by other teachers. We have implemented interventions that involve 1:1 tuition and done smaller group/1:1 tuition rather than traditional whole class boosters for Y6 SATS based on EEF's Teaching and Learning Toolkit.
How do you tell if something is working in the classroom?
Impact on pupils' progress (progress scores based on end of KS1 standardised scaled scores).
Scores on tests (attainment scores); pupil voice and feedback.
Feedback from teachers – teacher voice.
Observations of classroom practice.
What do you think researchers should focus on next (i.e. what are the gaps in our understanding, from a teacher's perspective?)?
Vocabulary gap in young children (Early Years/KS1) particularly in disadvantaged pupils e.g. not much conversation at home. What interventions could be in place to help accelerate vocabulary learning? Would supporting parents at home at an early stage with vocabulary and language acquisition be helpful? How can we narrow the gap between vocabulary of disadvantaged and other pupils?
How can we improve reading engagement and focus? Parental support and engagement with this?
Memory and recall linked to key facts e.g. times tables facts and spellings.
Do you have any suggestions of how communication and collaboration can be improved between teachers and education researchers?
Involve teachers more in the design process rather than emailing them to be part of an existing trial that doesn't necessarily link to their School Improvement Plan and targets for improvement.
Support teachers in leading their own research. Establish partnerships between PhD students/universities to support teachers with the design or analysis process.
If you could share one piece of advice about research-informed practice with other teachers and trainee teachers, what would it be?
See the value of it – it is not just an add on but can inform your practice IF you tailor it to link to your pupils' needs, your classroom gaps, and school improvement plan priorities.
Please could you describe a research-informed idea that you feel has had a positive impact in your classroom, so that others could try it as well if they feel it's relevant. (e.g. Why did you introduce the idea? What did you do? What impact has it had?)
Our main research has involved exploring the teaching of spelling and how best to ensure pupils can recall spellings. We have carried out 2 RCTs in this field:
The use of testing as a learning event helps pupils recall spellings.
Two groups of pupils in Y6 in 2 schools (replicated in Y4) were involved, where one group of pupils did normal classroom practice for learning spellings (control), and the other group were told they would have a test at the end of the week on them too (intervention).
The group who were told they would have a test as part of their learning had greater gains in their scores.
The use of multiple choice testing as a learning event (based on retrieval practices from Neuroscience for Teachers textbook).
Three groups of pupils from Y6 from two schools (120 pupils), completed a pre-test of 30 words (split into three groups of 10). Each group used a different method for learning spellings and all groups experienced each condition in a different order:
Control – Look Cover Write Check method (normal classroom practice)
Intervention 1 – Multiple choice testing as a learning event
Intervention 2 – Combining both conditions (L,C,W,C and Multiple choice tests)
Post-test in each condition.
Impact: Although all groups improved their scores, Intervention 2 was more effective than both Intervention 1 and Control. Control was more effective than Intervention 1. Children preferred using multiple choice testing than other method.
As a result: We use weekly testing in every class throughout school, and we use multiple choice testing in addition to other methods but not to replace existing practice (it enhances but can't replace).